2023-2024 Princeton Men's Ice Hockey Season Tickets
*New*

Special Q&A with Coach Ron Fogarty
Season ticket holders will get the chance to send in questions to ask Princeton Coach Ron Fogarty. He will then be answering your questions in a video that will be sent out to season ticket holders only.
*New*

Four Complementary Tickets
Season ticket holders will get receive 4 complementary tickets to another Princeton Athletics event of their choice. This includes Football, Women's Ice Hockey, Men's Basketball, Women's Basketball, Wrestling or Lacrosse
*New*

Waive Processing Fee
Purchase your season tickets before June 30th to waive your processing fee for each season ticket
Early Access to Individual Tickets
All season ticket holders will have early access to purchase individual tickets to games at the discounted rate of $6. Individual tickets will go on sale for season ticket holders on August 28th - September 4th.
Entered to win a Princeton Hockey Hobey 100 Jersey
With each season ticket purchased you will be entered into a raffle to receive a special Hobey 100 Jersey brought to you by the Ironworkers, proud partners of Princeton Hockey
Discounted ECAC Tournament Tickets
If Princeton Host ECAC Tournament games season ticket holder will have a chance to purchase tickets at a discounted rate.
Call (609) 258-4849 to Purchase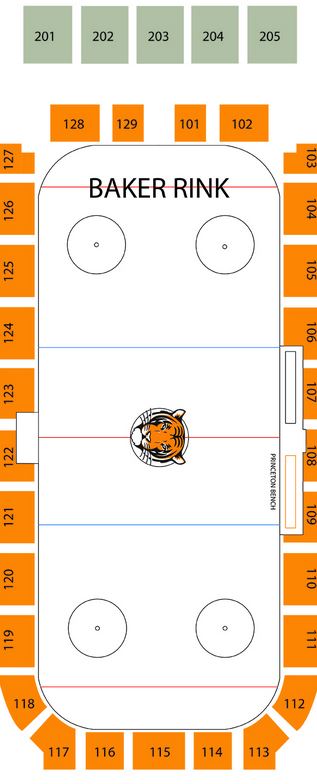 For Specific Seating Please Call 609-258-4849